Based on the standard "Pan-European Public Procurement On-line (Peppol)" Singapore is implementing the nationwide InvoiceNow e-invoicing framework to help businesses improve efficiency and reduce costs through automated processing of e-invoices using a standard digital format.
What is InvoiceNow E-invoicing?
On 9th of January 2019, the Infocomm Media Development Authority (IMDA) announced the launch of InvoiceNow
(previously known as Peppol e-invoicing)

to help businesses enhance speed of transactions and overall efficiency.
This network is an extension of the international Peppol network, allowing enterprises to transact with linked companies, locally or internationally.                                                                                                                                                                                                                                                                                                                                                 
In support of IMDA's e-invoicing framework, DataPost (A member of the ADERA Global Group of Companies) is a certified access point, helping you to connect to any organization without migration of systems. Eliminate manual handling of transactions and room for error through our secured system, allowing you to focus on higher value work.
Go to DataPost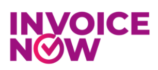 DataPost InvoiceNow E-Invoicing Platform
Beyond E-invoicing
As a certified Peppol Access Point (AP), DataPost Pte Ltd provides AP Services via a user friendly e-invoice Software as a Service (SaaS), allowing businesses to onboard seamlessly with minimal changes to existing invoicing software. Not only does DataPost enable processing of documents according to Peppol standards, businesses will be able to enjoy value-added services such as SG QR Code Generating of invoices and Archiving & Payment (via Direct Debit) integration through the same portal.
DataPost can also support the generation of ISO 20022 Payment File – supported by major banks in the region. Other features of our SaaS solution include a one-time drag-and-drop exercise to map existing invoicing software to Peppol definition.
SAAS
E-invoice Software as a Service

Payment File Standard
Generation of ISO20022 compliant payment files supported by major regional banks

Security Compliance
Over 25 years experience and knowledge in data privacy and transactional data

Minimal Changes
One time drag and drop exercise, minimal changes to existing software

SG QR Code
SG QR code generating of invoices