Enroll, Transact, Reward
Enjoy labour and time savings with ADERA's complete suite of mobile-based cashless payment solutions. Create potential for greater sales with transactional data collected from your various channels.
Provide frictionless campaigns and effective loyalty schemes through personalized campaigns with a personal touch.
Everything an App Needs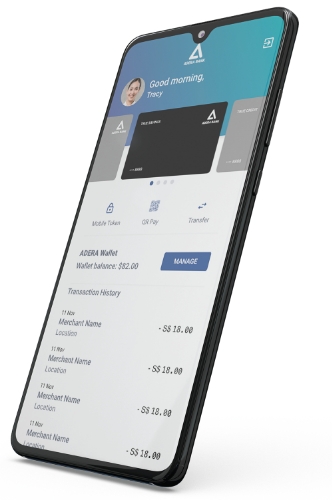 Mobile Token
Strengthen the security of transactions with ADERA's mobile token.
QR Payment
Supports any QR payments needs - static or dynamic.
Mobile Wallet
End-to-end integration of mobile app with an e-wallet to store credits and rewards.
Face Recognition Payment
Fast, secured and easy payment. No phones required for face recognition payments at POS terminals.
Secured Database
Biometric DB for authenticating users and transactions.
Data Analytics
Personalized digital promotions through analysis of transactional data.
See More on Next-Gen Retail App
Onboarding & e-KYC
Supports multi-channel onboarding with automated KYC - Document / ID verification and face recognition with liveness detection.
All Transactions
Face recognition payments, P2P Transfers, wallet top-ups, bill payments, loyalty points and redemption
Supporting All Your Payment Needs
Online Payments

Static QR
Payments

Receipt Generation
Dynamic QR Code Payment
Mix It Up
Depending on your business requirements & needs, we integrate for your ultimate app.
Instant KYC
Wallet Enrollment / Activation
Data Collection & Secured Storage
Mobile Wallet & Top Up
QR Payment, Receipt Generation
Transaction Monitoring
Merchant Management
2FA Authentication
Mobile Token
Face Enrollment & Verification
Central Digital ID Integration
Data Analytics
Daily Settlement
Transaction Reconciliation