Monitor, Maintain, Anticipate
Anticipate maintenance needs and ensure that your machines are at top-service condition anywhere and anytime through comprehensive real-time information collection of the terminals at each network point. Effectively monitoring the running status of each terminal and every module of the machine configuration.
Not only do you combat service downtime, we enable you to provide frictionless and secure digital services to your customers through early management of your self-service network.
Centralized Monitoring, Actionable Data
Centralized web platform to monitor and track kiosks at different locations
Manage and improve planning of resources through beforehand notifications on anticipated issues
Real-time status update of health or inventory for better planning
Facilitate, monitor and control all your terminals on a single platform, providing alerts to help operators anticipate and manage your terminals remotely and effectively.
Optimize your operating costs
Improve customer services
Flag potential failures before occurring = no more downtime
Significantly reduce dispatching visits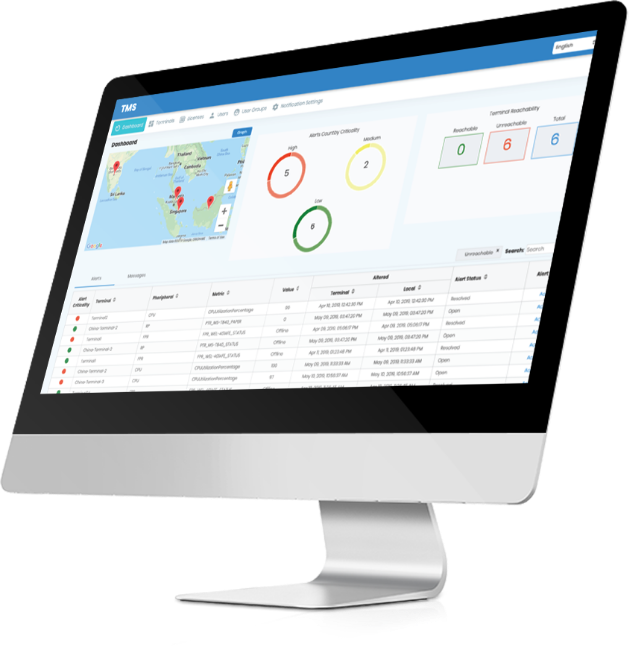 Key Features
Kiosk Status Updates
Real-time status checking
Terminal health tracking (CPU, network etc.)
Terminal stock tracking (cards etc.)
High/medium/low criticality of issues
Terminal location map
Activity logs
Data analysis
Customize alert notifications via SMS/Email
Kiosk Management
Kiosk details – Location, name etc.
Kiosk group management
User Management
User and access level management
User role management – system admin/engineers
User group management – eg. Kiosk, North engineers
User group notifications
End-to-End Solution
No two organizations are the same. With different systems and architecture, ADERA helps your organization create a customized monitoring system through identifying your challenges and priorities, ensuring a robust self-service network.

Main Office
Centralized Management

Central Biometric Authentication Management Platform

Terminal Management Platform