Seamless, Secure, Swift
The top factors of a successful e-wallet app is flawless integration of payments and applications while providing convenience and security.
Stay ahead of the curve with frictionless navigation and modular integration of your customer eWallet app.
Cost Effective
No major changes to existing POS, easy adoption for customers
Expandable
One system to connect your stores and customers on one app. Link up your loyalty programs and personalised marketing notification pushes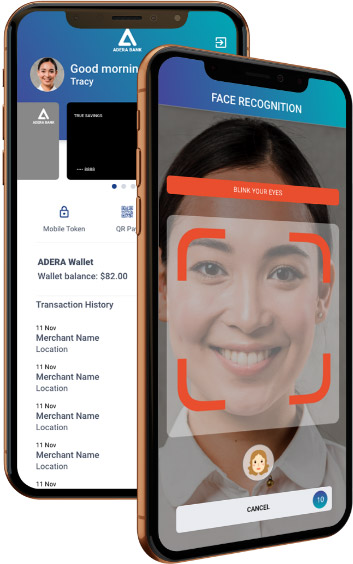 Face Recognition
Amp up your payment technology with ADERA's selfie payment solution, not just for secure payments – elevate your VIP experience through personalized reception with VIP recognition
Supporting All Your Payment Needs

Online Payments
Static QR
Payments
Receipt Generation

Dynamic QR Code Payment
QR Code
Dynamic QR generation system for secured transactions. Scan to pay, or scan to transfer.

Face Recognition
Central face recognition platform, managing enrolment and authentication.

SDK Provided
User face recognition SDK for integration and enrolment: iOS or Android.

Total Integration
POS device development / procurement to payment app development.